Category:The Highlands


---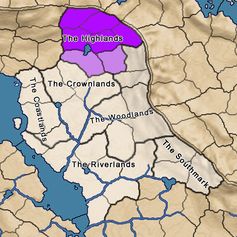 ---
| | |
| --- | --- |
| Ruler | Robyn Wolfrey (Wolfrey) |
| Succession  | Agnatic-Cognatic Primogeniture |
| Capital | ? |
| Demonym | Highlander; "of the North" |
| Area (mi²) | ? |
| Population | ? |
| Ethnicities | ? |
The Highlands is a "duchy" in the Kingdom of Generica, primary title of His Grace, Duc Robyn.
Geography
Origin and History
Government
Regions
The Highlands is a de jure duchy consisting of 5 county titles, with 2 county titles added. See also: Vassalage in Generica.
Arldom of Clansdale
Arldom of Chieffolk
Arldom of the North Pass
Ruled by Arl Barrish Magroth
Home of the Sentinels
Markisate of Westmark
See Westmark
Arldom of the Moors
Arldom of Bonnyfield
Arldom of the Pale
Rumor Has It…
See Also
Notes
Subcategories
This category has only the following subcategory.
W
Pages in category "The Highlands"
The following 5 pages are in this category, out of 5 total.