Court of the Highlands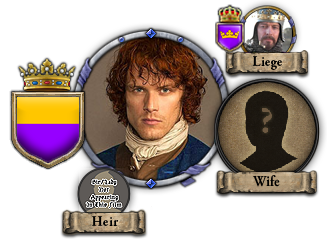 Details
Ruled by:

Duc Robyn
Liege:

King Jon XVII of Generica
Religious Head: Pontiff Sonorus
Seat: Crowningstone Castle, Clansdale
Succession
(Agnatic-Cognatic Primogeniture)
[Sister 1]
Arless Grayce Wolfrey of Bonnyfield
[Uncle's Daughter]
[Dist. Related Kinswoman]
Vassals (12)
Arl of Clansdale
Arl of Chieffolk

Arl Ser Barrish Magroth of the North Pass


Markis Egowe Maguttin of Westmark


Arl Clorty Boxwyne of the Moors


Arless Grayce Wolfrey of Bonnyfield


Arl [Name] of the Pale
Courtiers (19)
Abroad
Honorary Titles
Commanders
Rumor Has It…
It is said that Lady Reyanna calls the shots at court, as she did before her husband's death.
Pretty much any death in the court that is said to be "accidental" is believed by some to have been "not-so-much accidental," though no one knows for certain.
Though the Duc publicly, firmly dismisses the peoples' ubiquitous talk of independence, privately, he might not be so steadfastly loyal to the crown.
Known Plots
Fabricate Claim on the Highlands; Lead: Egowe Maguttin; backed by [2 upper-tier (110%)]
Factions