Category:The Riverlands


---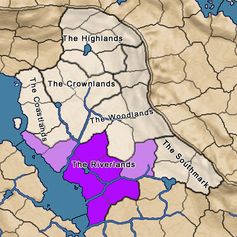 ---
| | |
| --- | --- |
| Ruler | Vilinus Lionheart (Lionheart) |
| Succession  | Agnatic-Cognatic Primogeniture |
| Capital | ? |
| Demonym | Riverlander; "of the South" |
| Area (mi²) | ? |
| Population | ? |
| Ethnicities | ? |
The Riverlands is a "duchy" in the Kingdom of Generica, primary title of His Grace, Duc Vilinus.
Geography
Origin and History
Known for its strategists
Government
Regions
The Riverlands is a de jure duchy consisting of 5 county titles, with 3 county titles added. See also: Vassalage in Generica.
Arldom of the Gold Coast
Arldom of Westing
Arldom of Armingham
Belong de jure to region (d.) of E.Generica
Ruled by Arl Vinzan Lionheart
Arldom of Commercia
Arldom of Landbury
Arldom of Marchfield
Arldom of Southing
Belong de jure to region (d.) of W.Generica
Arldom of Stockland
Ruled by Arless Docia Pettihowse
Rumor Has It…
See Also
Notes
Pages in category "The Riverlands"
The following 5 pages are in this category, out of 5 total.