Category:Gold Coast


---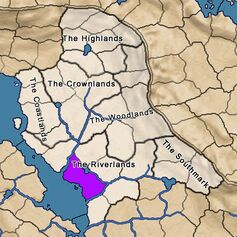 ---
| | |
| --- | --- |
| Ruler | Duc Vilinus (Lionheart) |
| Succession  | Agnatic-Cognatic Primogeniture |
| Capital | ? |
| Demonym | ? |
| Area (mi²) | ? |
| Population | ? |
| Ethnicities | ? |
The Gold Coast is a "county" in the Ducdom of the Riverlands, in the desmene of His Grace, Duc Vilinus.
Geography
Origin and History
Government
Regions
The Gold Coast is a de jure county consisting of 4 holdings. See also: Vassalage in Generica.
Barony of Lionheart Castle
Vicarage of Coveton
City of Cashford
Barony of X
Rumor Has It…
See Also
Notes
This category currently contains no pages or media.