Category:Gastony


---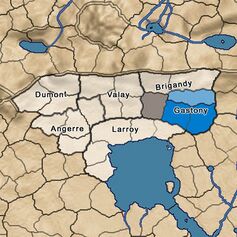 ---
| | |
| --- | --- |
| Ruler | Anvie Lafoe (Lafoe) |
| Succession  | Agnatic-Cognatic Primogeniture |
| Capital | ? |
| Demonym | Gaston |
| Area (mi²) | ? |
| Population | ? |
| Ethnicities | ? |
Gastony is a "duchy" in the Kingdom of Antagonia, primary title of His Grace, Duc Anvie.
Geography
Origin and History
Government
Regions
Gastony is a de jure "duchy" consisting of 3 "county" titles, with 1 county title added; the Conty of Audacia currently belongs to the Ducdom of Brigandy. See also: Vassalage in Antagonia.
Conty of Florry
Conty of Bordoor
See Bordoor
Conty of Marshay
Belong de jure to region (d.) of Brigandy
Rumor Has It…
See Also
Notes
Pages in category "Gastony"
The following 3 pages are in this category, out of 3 total.