Category:Parochia


---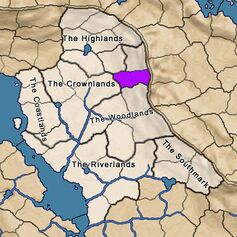 ---
| | |
| --- | --- |
| Ruler | Dovan Fyrebrand |
| Succession  | Agnatic-Cognatic Primogeniture |
| Capital | Proudchurch |
| Demonym | ? |
| Area (mi²) | ? |
| Population | ? |
| Ethnicities | ? |
Parochia is a "county" in the Ducdom of the Woodlands, primary title of His Grace, Dovan Fyrebrand, Archvicar of North Generica.
Geography
Origin and History
Government
Regions
Parochia is a de jure county consisting of 3 holdings. See also: Vassalage in Generica.
Vicarage of Proudchurch
Ruled by Lord-Archvicar Dovan Fyrebrand
Cathedral of St. Gyna the Chaste at Proudchurch
City of [TBD]
Barony of [TBD]
Rumor Has It…
See Also
Notes
Pages in category "Parochia"
This category contains only the following page.