Category:Stronghold


---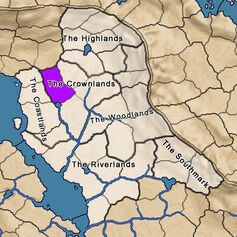 ---
| | |
| --- | --- |
| Ruler | Warryn Hawke (Surrly) |
| Succession  | Agnatic-Cognatic Primogeniture |
| Capital | ? |
| Demonym | ? |
| Area (mi²) | ? |
| Population | ? |
| Ethnicities | ? |
Stronghold is a "county" in the Ducdom of the Crownlands, primary title of His Lordship, Warryn Hawke.
Geography
Origin and History
Government
Regions
Stronghold is a de jure county consisting of 4 holdings. See also: Vassalage in Generica.
Barony of Castle Stronghold
City of Grainmarket
Vicarage of Chapelton
Barony of Ruffingham
Rumor Has It…
See Also
Notes
Pages in category "Stronghold"
This category contains only the following page.