Category:Blueline Enforcement Corporation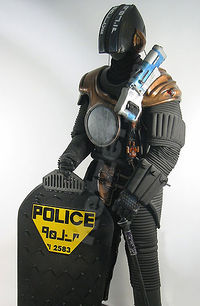 Blueline Enforcement Company is a private police company in the Helene System, United Stars Alliance (USA), whose duties are to protect the property and citizens of Tamborro Station, and to enforce state and city laws on Tamborro Station property. The Tamborro Station detachment of Blueline currently employs more than 100 Public Safety officers and 10 civilian employees.


Tropes
SPA Ratings
Response Time:





(Average)
Professionalism:





(Lax)
Attitude:





(Neutral)
History
Tamborro Station management is one of many localities that has contracted Blueline to protect its property and citizens since the station first went operational. Tamborro Station was designed to house approximately 20,000 permanent or semi-permanent residents, for which Blueline is responsible.
Units
Blueline Enforcement Company has the following units:
Patrol Unit - Officers patrol on foot and in patrol trams
Bicycle Unit - Officers patrol on bicycles
Emergency Services Unit - Officers patrol in rescue trams, are fully certified EMT's, back up other officers when necessary, and are trained to handle rescue, tactical, and medical emergencies
Detective Squad - Detectives investigate and solve crimes, apprehend criminals, and locate missing persons
Gang Intelligence Unit - Officers investigate gangs and gang activity, and try to keep gangs and gang activity to a minimum
Community Affairs - Officers keep in close contact with the public, and try to keep a good rapport between the public and the department
Training Unit - Responsible for all training given to all employees
Investigations Unit - Officers investigate all internal investigations involving personnel
Community Policing - Officers increase community participation in activities and community based public safety programs
Training
Blueline recruits must pass a company training course which includes all necessary training required by USA Ministry of Criminal Justice Services (DCJS) for training as a Peace Officer. In addition, recruits go through training in physical control of a subject, the use and effects of standard officer equipment.
Equipment
Public Safety Officers are equipped with a [sidearm, can of pepper spray, baton, handcuffs, flashlight, and police radio].
Public Safety Officers have Special Patrolmen status authorized by the USA. With Special Patrolmen status, officers have peace officer powers while on duty. With peace officer powers, officers can make warrant-less arrests, carry and use handcuffs, and use physical and deadly force, and to issue parking summonses to illegally parked vehicles on Tamborro Station property.
Chain of Command
Notable Employees
Notes
Pages in category "Blueline Enforcement Corporation"
The following 4 pages are in this category, out of 4 total.